Shopping Cart
Your Cart is Empty
There was an error with PayPal
Click here to try again
Thank you for your business!
You should be receiving an order confirmation from Paypal shortly.
Exit Shopping Cart
| | |
| --- | --- |
| Posted on January 21, 2013 at 10:06 AM | |
Interior Design Expert Advice - PART THREE of Four Part Blog Series
Welcome Back! This week, wecontinue our discussion with award-winning interior designer, Stephanie Holdrenand move to the subject of trends in interior paint:
Q: Where do I start?
A: You can find inspiration from design magazines, paint manufacturer websites, home improvement showrooms or visiting model homes. You can also start with the color wheel. When using a wheel, the colors next to one another or, directly across from one another, will compliment successfully to set the basis of a color scheme.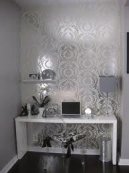 Q: What are some new trends in paint?
A: Patterns created with paint are being used to add an element of design by many of today's design savvy home owners.  Versatile and cost-effective, patterns can be used to bring dramatic impact to a room's décor or, just to add a touch of subtle contrast to a particular wall or architectural feature. In the repeated pattern here, metallic paint was used to reflect light and bring both design and brightness to the space.
Q: Other than merely using color, how can paint add drama or dimension?
A: Subtle interest can be created by layering stripes of the same width, in deeper or lighter hues of the same base wall color. This elegant application adds interest to a room while still keeping the color scheme soft and versatile.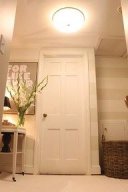 More adventurous homeowners may like higher contrasting colors and graphic patterns such as the Chevron design shown in this photo. This striking addition of vivid pattern and contrasting color will add interest to any interior space.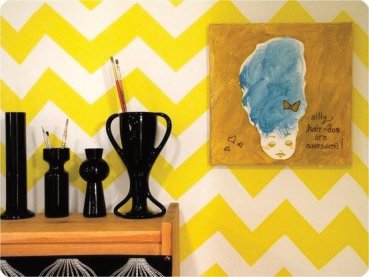 Q: What about a treatment on the wall, instead of merely paint, what is most prevalent in homes on the leadingedge of design?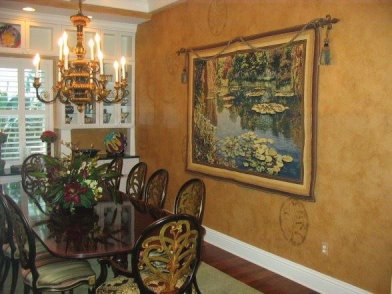 A: Venetian plaster is front and center in some of the most exquisitely designed homes today. It is tremendously versatile, each application unique not only in color and design but, also with qualities inherent to the particular artist. The application and variation toVenetian plaster are truly limited only by a homeowner's imagination. However, be aware that Venetian plaster can be costly and susceptible to damage. As such, I recommend Venetian plaster be used in rooms where it is not subject to excessive wear or damage from weather elements.
Catch up with us next week for our 4th interior design post, when we discuss South Florida trends in Accessories!
Copyright 2013: Valerie Anne Martinetti
Categories: South Florida Interior Design Tips
/