Shopping Cart
Your Cart is Empty
There was an error with PayPal
Click here to try again
Thank you for your business!
You should be receiving an order confirmation from Paypal shortly.
Exit Shopping Cart
| | |
| --- | --- |
| Posted on January 14, 2013 at 4:39 PM | |
Interior DesignExpert Advice - PART TWO of Four Part Blog Series
Welcome Back! This week, wecontinue our discussion with award-winning interior designer, Stephanie Holdrenand move to the subject of trends in flooring: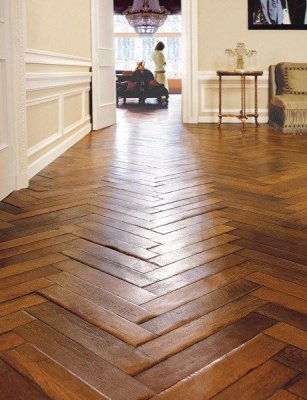 Q: What's new in floor trends these days?
A: Ceramic tiles that look like wood flooring are a hot design trend. They are manufactured in every color, grain style, size andshape to mimic the look of a real wood flooring. The Herringbone or Chevron pattern is particularly popular as seen here.
These products are more than just magnificent in appearance; they are also cost-effective, easy to clean and abreeze to maintain.
Q: Is flooring an essential design element or one best left neutral?
A: It is all about personal choice. A soft, neutral palette can be established with flooring to create a room that is versatile and timeless. You can also use flooring as a bold design element. For instance,consider a brave flooring choice for your guest bath, especially since it isoften a statement room, used primarily by visitors; why not give itextra panache? Bringing in exotic colors or finishes in flooring, using abold pattern or even animal prints, can give your guest bath a spectacularsplash.
Q: What about new flooring processes or finishes? Is there anything innovative in home flooring?
A: Absolutely. Acid washed cement is the most fresh,new flooring trend. This process is truly limitless in design style and used both indoors and outdoors. An environmentally-friendly process, acid washing is available in an endless array of colors, textures and finishes. The photo below shows an acid washed floor that makes the concrete appear marbled; with inlays providing a rich yet, neutral pop of color and added architectural detail. 

Q: What about plush flooring, like rugs; are they out of style?
A: No. Rugs are definitely not out of style. These days, we are more likely to see them used as a central design element, rather than wall to wall, especially in higher traffic and living areas. They serve to anchor furniture and add a soft style element to any room of the house. Area rugs are tremendously versatile and can instantly change the style of a room. I recommend that you choose your area rug with its potential use in mind. If you have younger children or pets, choose rugs that are easy to clean or replace in high traffic areas. Install your more expensive rugs in rooms of the house which are subject to less wear and tear. From the clean, natural look of sisal to throw-back shags in today's hottest and most vivid shades; area rugs add a sensational design element to any room of the house.
Q: Sum it up for us, please. When it comes to flooring, give us a few lines of good, general advice.
A: Okay, some general advice… Flooring can truly be everything from an impressive architectural element to a neutral backdrop for your furnishings. My advice is don't overlook the impact of flooring. Flooring, even merely a new area rug, can change the look of a room overnight. There are flooring choices available today to satisfy all design styles, maintenance preferences and of course, budgets. Well chosen flooring can add substantial impact and genuinely increase the value of your home.
Catch up with us next week when we discuss SouthFlorida trends in Paint and Wall Coverings!
Copyright 2013: Valerie Anne Martinettine Martinetti
Categories: South Florida Interior Design Tips
/